Necklaces from Kenya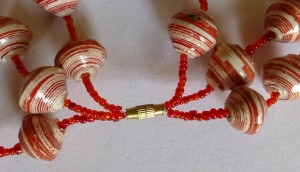 PRESSED PAPER
These necklaces are handmade by the Kowil group in Kisumu, a village in Western Kenya. After an internal training, the women and girls are able to work in the Studio. Making the ornaments they earn enough money to be able to pay for their daily maintenance.
The beads are made of pressed paper. Here and there are still to see the letters of the recycled paper. The beads are finished with a layer of varnish. This gives them a soft shimmer and ensures that against water resistant (although you'd better not wear them while swimming too long).
All necklaces close with a screw closure.
The KikoyShop has purchased the ornaments in several different types and colors chains. Because of our direct contacts with the local people (no agents) we can offer these necklaces for a low price. There is always a colour that will give just that extra accent to your clothing.
They are also funny and affordable gifts. Always welcome!
Shipping costs depend on the country of destination and of the weight of your order. You can read our shipping costs in the buying information at point 4.
Showing 1–10 of 11 results